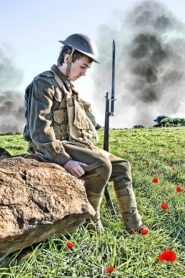 Η Ζωή εν Τάφω – Επεισόδια from ERT WebTV
Synopsis
Η ζωή εν τάφω – Τα Επεισόδια
Η ζωή εν τάφω είναι ελληνική δραματική σειρά, η οποία προβλήθηκε από την ΕΡΤ το 2019 και είναι βασισμένη στο ομώνυμο μυθιστόρημα του Στρατή Μυριβήλη. Το πρώτο επεισόδιο προβλήθηκε στις 31 Ιανουαρίου 2019 και το τελευταίο στις 12 Ιουνίου 2019. Είναι η πρώτη ελληνική τηλεοπτική σειρά που προβάλλεται από την ΕΡΤ.
I zoi en tafo (TV Series 2019)
"Life in the tomb" is the greatest anti-war WWI book written in Greek and has vivid descriptions of the filthy life in trenches, picturing the madness and desperation, in the war that tried to end all wars, in the East, Balkan front.
After the love letter of Antonis Kostoulas, a volunteer soldier in the Archipelago Division, with the tender Myrsini, a teacher at the Girl's School of Mytilene, we follow in the footsteps of the political developments that lead us to humanity in the First World War, but also conditions and the catastrophic futility of any war. A wonderful sensitive love story that grows like "a poppy" in the gloomy trenches.
The shooting of the series started in 2018 and took place in many parts of Greece and mainly in Mytilene, Macedonia, Lavrio, Ilion (Royal Palace), while several drone shots were taken.
Original title
Η Ζωή εν Τάφω
TMDb Rating 9 1 votes
First air date
Jan. 31, 2019
Last air date
Feb. 28, 2019
Average Duration
60 minutes