Love and Punishment – TV Series (2010–2011)
Synopsis
Love and Punishment (Έρωτας και Τιμωρία) – Ask ve ceza 
Aşk ve Ceza is a Turkish television drama series that aired in 2010-2011. Nunu Yeşilçay, Murat Yildirim and Feride Çetin starring, the series were shot in Van, Bodrum and Istanbul. In 2011, this series were broadcast also in Croatia on Nova TV and in Greece on Mega Channel. In Serbia, this series is airing from January 8, 2013 in 1PRVA. In Georgia TV Maestro started broadcasting this series on 15 April 2013. You can watch full episodes online on the Youtube channel here
Review – Love and Punishment (Erotas kai Timoria)
Two young people, Savas and Jasmine, are connected by a great love, but they are separated by the different worlds in which they live. They are trapped in the unjust games of fate, the unwritten laws of a bloody vendetta and the big family secrets. Modern Turkey is confronted with the strict traditions and customs that, even today, prevail in the country.
Yasemin, a young girl, works for an advertising company and prepares to marry when she discovers that her fiancé, Mehmet, is cheating on her with her best friend. He blames himself for his infidelity!
Disappointed, Jasmine loses faith in the principles with which she grew up and ends up making love with the first man she meets in a bar, Savas. That same night, remorseful, she disappears from his side, leaving him with a bunch of questions.
Although Yasemin thinks Savas is a bartender, he is in fact the offspring of a large family in the business world, who until recently lived abroad. He came to Turkey for the wedding of his brother, who marries Cicek, to stop a bloody feud between the two families. When his brother and father are killed in a car accident, Savas is forced to marry Cicek in order not to wake up the vendetta.
Jasmine ignores what is happening in the life of the unknown man who marked her life forever. Mehmet asks her to give him a second chance, while the behavior of her boss, Bora, creates new complications in her life. Yasemin, however, has more serious issues that concern her …
Υπόθεση – ΕΡΩΤΑΣ ΚΑΙ ΤΙΜΩΡΙΑ
Η Γιασεμίν, μια νεαρή κοπέλα, εργάζεται σε διαφημιστική εταιρία κι ετοιμάζεται να παντρευτεί, όταν, πιάνει τον αρραβωνιαστικό της, Μεχμέτ, να την απατά με την καλύτερή της φίλη. Εκείνος, ρίχνει στην ίδια την ευθύνη για την απιστία του… Απογοητευμένη, χάνει την πίστη της στις αρχές με τις οποίες μεγάλωσε και καταλήγει να κάνει έρωτα με τον πρώτο άντρα που συναντά σ' ένα μπαρ, τον Σαβάς. Το ίδιο βράδυ, μετανιωμένη, εξαφανίζεται από το πλάι του, αφήνοντάς τον με ένα σωρό ερωτηματικά… Αν και η Γιασεμίν νομίζει ότι ο Σαβάς είναι μπάρμαν, στην πραγματικότητα πρόκειται για τον γόνο μιας μεγάλης οικογένειας στο χώρο των επιχειρήσεων, ο οποίος μέχρι πρότινος ζούσε στο εξωτερικό. Στην Τουρκία ήρθε για το γάμο του αδελφού του, ο οποίος παντρεύεται την Τσιτσέκ, για να σταματήσει μια αιματηρή βεντέτα ανάμεσα στις δυο οικογένειες… Όταν ο αδελφός κι ο πατέρας του σκοτώνονται σε αυτοκινητιστικό δυστύχημα, ο Σαβάς είναι αναγκασμένος να παντρευτεί την Τσιτσέκ για να μην αφυπνιστεί η βεντέτα. Η Γιασεμίν αγνοεί τι συμβαίνει στη ζωή του άγνωστου άντρα που σημάδεψε τη ζωή της για πάντα… O Μεχμέτ τής ζητά να του δώσει μια δεύτερη ευκαιρία, ενώ η συμπεριφορά του αφεντικού της, Μπορά, δημιουργεί νέες επιπλοκές στη ζωή της. H Γιασεμίν, όμως, έχει πιο σοβαρά θέματα που την απασχολούν…
Summary
Ask ve ceza (original title)
Action, Drama, Romance | TV Series (2010–2011)
Δείτε τα επεισόδια της σειράς ΕΡΩΤΑΣ ΚΑΙ ΤΙΜΩΡΙΑ με ελληνικούς υπότιτλους. Watch Love and Punishment – Ask ve ceza, all the episodes with Greek Subtitles
History of Turkish series in Greece
The series began airing in Greece on September 26, 2011 on Mega Channel, with a 27.3% viewership rate. The last episode aired on March 16, 2012, with a viewership rate of 48.8%, setting a record for television viewing in the history of Turkish series in Greece. The highest viewership rate was in the last episode. Mega Channel, from which the show aired, aired just one hour, doubling the number of episodes from 62, which was their original number, to 123. This has happened and is happening with all Turkish Mega Channel series.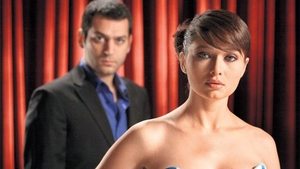 Original title
Aşk ve Ceza
TMDb Rating 5.9 8 votes
First air date
Jan. 05, 2010
Last air date
Jan. 24, 2010
Average Duration
90 minutes