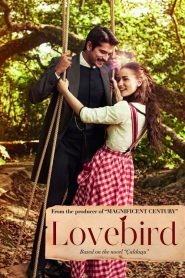 Çalıkuşu (2013) – τουρκικες σειρες online greek subs
Synopsis
Çalıkuşu (2013) – τουρκικες σειρες online Greek subtitles
Çalıkuşu (English: Lovebird) is a 2013 Turkish romantic drama television series aired on Kanal D that is based on the novel of the same name for the fourth time. Tells the story of Feride, an orphaned young girl who is forced to attend a boarding school. While she visits her aunt during holidays, she falls in love with her cousin Kamran. Soon, their love grows to be mutual and intensifies.
ΤΑ ΦΤΕΡΑ ΤΟΥ ΕΡΩΤΑ – τουρκικη σειρα – online ελληνικοί υπότιτλοι
Η Φεριντέ, είναι ένα χαριτωμένο και σκανδαλιάρικο κορίτσι που έχασε τη μητέρα της σε πολύ μικρή ηλικία. Καθώς ο πατέρας της ήταν στρατιωτικός, η μικρή μεγάλωσε στο σπίτι της θείας και του θείου της, μαζί με τα ξαδέλφια της, τον Κιαμράν και την Νετζμιγιέ. Μετά από μερικά χρόνια, ο πατέρας της Φεριντέ σκοτώνεται στη μάχη.
Η Φεριντέ και ο Κιαμράν μεγαλώνουν μαζί, χωρίς να φαντάζονται τη συνέχεια της σχέσης τους. Ο Κιαμράν γίνεται γιατρός και εργάζεται στο νοσοκομείο, ενώ η Νετζμιγιέ ερωτεύεται τον Σελίμ, τον φίλο και συνάδελφο του Κιαμράν. Ο Σελίμ, όμως, είναι ερωτευμένος με τη Φεριντέ, την οποία κάποια στιγμή απάγει και παίρνει μαζί του. Ο Κιαμράν καταφέρνει να βρει τον Σελίμ, τον οποίο αργότερα δολοφονεί η Νετζμιγέ. Ο Κιαμράν παίρνει την ευθύνη της δολοφονίας και η Φεριντέ αναγκάζεται να πουλήσει το σπίτι τους για να πληρωθεί το τίμημα.
Καθώς ο Κιαμράν και η Φεριντέ ετοιμάζονται να παντρευτούν, η φίλη του Κιαμράν, η Νεριμάν, του δηλώνει ότι περιμένει το παιδί του. Στο νέο αυτό, η Φεριντέ τον εγκαταλείπει, καθώς δεν θέλει να μεγαλώσει ένα ακόμα ορφανό όπως μεγάλωσε εκείνη. Μήπως, όμως, τα πράγματα δεν είναι έτσι; Θα καταφέρει να σμίξει και πάλι η Φεριντέ με τον Κιαμράν;
ΤΑ ΦΤΕΡΑ ΤΟΥ ΕΡΩΤΑ – Όλα τα Video
Also Known As (AKA)
| | |
| --- | --- |
| (original title) | Çalikusu |
| Bulgaria (Bulgarian title) | Чучулигата |
| Canada (English title) | Çalikusu |
| India (English title) | Çalikusu |
| Russia | Королёк – птичка певчая |
| Serbia | Dnevnik ljubavi |
TMDb Rating 7.5 4 votes
First air date
Sep. 24, 2013
Last air date
May. 18, 2014
Average Duration
100 minutes