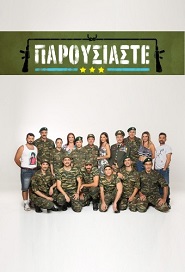 Παρουσιάστε – Parousiaste (ant1 tv series 2020)
Creator
Cast
Synopsis
Παρουσιάστε – ANT1 TV / Εκπομπές / Ελληνικές σειρές
Δύο στρατόπεδα σε παραμεθόριο περιοχή. Δύο διοικητές στη μέση μιας «μάχης» που προϋπάρχει για μια γυναίκα και φουντώνει για μία θέση Ταξίαρχου!
Ο ένας στρατολάγνος, στιγνός μιλιταριστής με στρατόπεδο «Προβλεπέ» και ο άλλος το «απόλυτο Χύμα»!
Γούλας ο ένας, Σκορδάς ο άλλος! Ορκισμένοι εχθροί!
Ο Λευτέρης Γούλας (Γιάννης Μπέζος), διοικητής του σκληροπυρηνικού στρατοπέδου καταδρομέων, θα προσπαθήσει με θεμιτά και (κυρίως) αθέμιτα μέσα να αποκλείσει τον «γείτονα» διοικητή, Θανάση Σκορδά (Μανώλης Μαυροματάκης), απ' την κούρσα της διαδοχής στη θέση του ηγέτη της Ταξιαρχίας.
Η κατάσταση όμως ξεφεύγει, όταν τα δύο στρατόπεδα συγχωνεύονται προσωρινά και αναγκάζονται να «συγκατοικήσουν» μοιράζοντας αρμοδιότητες και… πονοκεφάλους στον απερχόμενο Ταξίαρχο (Θοδωρής Κατσαφάδος).
Τι θα γίνει όταν ένα στρατόπεδο γεμάτο σκληρά εκπαιδευμένους κομάντος θα πρέπει να συνυπάρξει με ένα στρατόπεδο που ο πιο σκληρός του φαντάρος, έχει τη μάνα του (Λένα Ουζουνίδου) σταθμευμένη απ' έξω, με τροχόσπιτο;
Δείτε εδώ όλα τα επεισόδια της Ελληνικής Σειράς ή δείτε τα ζωντανά στο τηλεοπτικό κανάλι ant1 κάθε Δευτέρα και Τρίτη στις 9 μ.μ. (ώρα Ελλάδας)
Parousiaste (ant1 tv series 2020) – watch episodes online
It all starts when two military camps in a border area merge for economic reasons. Inevitably follows the clash of the two commanders over who will win the favour of the Ministry and the administration of the new military camp.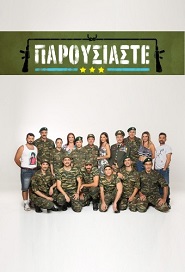 Original title
Παρουσιάστε
First air date
Sep. 28, 2020