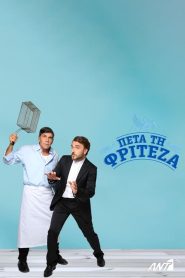 Synopsis
WATCH Peta ti Friteza ONLINE
Season 2 of Πέτα τη Φριτέζα premiered on September 23, 2019.
Andreas decides to claim his stake in the new menu for the restaurant. Lakis and Sokratis discover the man in Fotini's life.
Series
TV-G
Available on: Antenna
Get Peta ti Friteza with greektv.org
No useless channels. No long-term contracts. No hidden fees. Easy online cancellation.
Original title
Πέτα τη Φριτέζα
TMDb Rating 8 1 votes
First air date
Sep. 24, 2018
Last air date
Oct. 15, 2019
Average Duration
44 minutes