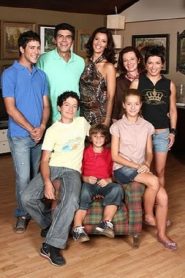 Ευτυχισμένοι Μαζί – Eftyhismenoi mazi (TV Series 2007–2009)
Synopsis
Ευτυχισμένοι Μαζί (2007) – Κωμωδία, Οικογενειακή
Η ιστορία αρχίζει με τον γάμο της Ελένης και του Διονύση. Ο Διονύσης είναι ιδιοκτήτης μιας μπυραρίας και είναι χήρος με 3 αγόρια (Μάρκος, Θανάσης και Γιαννάκης), ενώ η Ελένη είναι δασκάλα και ζωντοχήρα με 2 κόρες (Εύα και Φίφη). Ο Διονύσης και η Ελένη είχαν ερωτευτεί στην εφηβεία τους αλλά η Ελένη έφυγε για σπουδές στη Θεσσαλονίκη και παντρεύτηκε τον Αντώνη Παλαιολόγο, όπως τo ίδιο έκανε και ο Διονύσης. Ο Διονύσης και η Ελένη αντιμετωπίζουν αρκετές δυσκολίες, κυρίως με τον Θανάση και τη Φίφη, οι οποίοι βρίσκονται συνέχεια σε κόντρα.
Eftyhismenoi mazi or Eutihismenoi Mazi (in English Happy Together) is a Greek comedy TV series that was aired in Mega Channel during the seasons 2007-08 and 2008–09. The screenplay was adapted by Spanish series Los Serrano. The series stars Giannis Bezos, Katerina Lehou, Dimitris Mavropoulos and others. It was awarded as the best comedy series in "Prosopa" Greek Television Awards for the season 2008–09. It was one of the most successful series and according to television ratings, it was being watched by over 2.000.000 spectators every week.
Dionisis and Eleni get married, the former with three sons and the latter with two daughters from their previous marriages. The cohabitation starts to become difficult because the teenage children fall in love each other. But, the love between them is impossible because they are formally relatives, a fact which creates hectic situations in the family. Among the main roles are also the Kotsabasis family, the friends of Dionisis and Eleni, Spyros, Dionisis' brother, Ifigeneia, Eleni's mother and Dionisis' mother-in-law, Fotis, the waiter at Dionisis and Spyros' beer house and the children's schoolmates.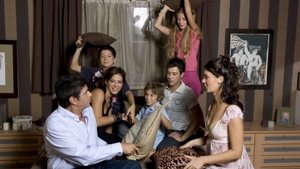 Original title
Ευτυχισμένοι Μαζί
TMDb Rating 8 2 votes
First air date
Oct. 05, 2007
Last air date
Oct. 05, 2007
Average Duration
40 minutes